Post by tinaev on Mar 4, 2015 3:46:53 GMT
I had a long post I made on Two Peas a year or so ago about our two horses we rescued back in 2012. One was skin and bones with a cranky attitude. The other thin and lame. It's been a long journey with them and they have done so, so well. I count myself lucky every day that I have them. But this whole time some part of me has been waiting for the other shoe to drop so to speak. Like how it could it have all come together so easily?
The thin cranky one isn't so thin anymore and definitely isn't cranky. He's a real pleasure to be around and has made a terrific riding horse. He started having some strange health problems this winter and without getting too involved in it, the vet is coming out tomorrow to take a look.
I'm absolutely freaking out. It's irrational but I have watched a couple of close friends have major health problems with their horses this year and it almost seems like this is it. This is the dropping shoe I have been waiting for. This horse means the world to me and I will not be ok if he isn't ok. So if you could spare us some positive thoughts tomorrow I would really appreciate it.
Mr. Crankypants himself, his name is Rio.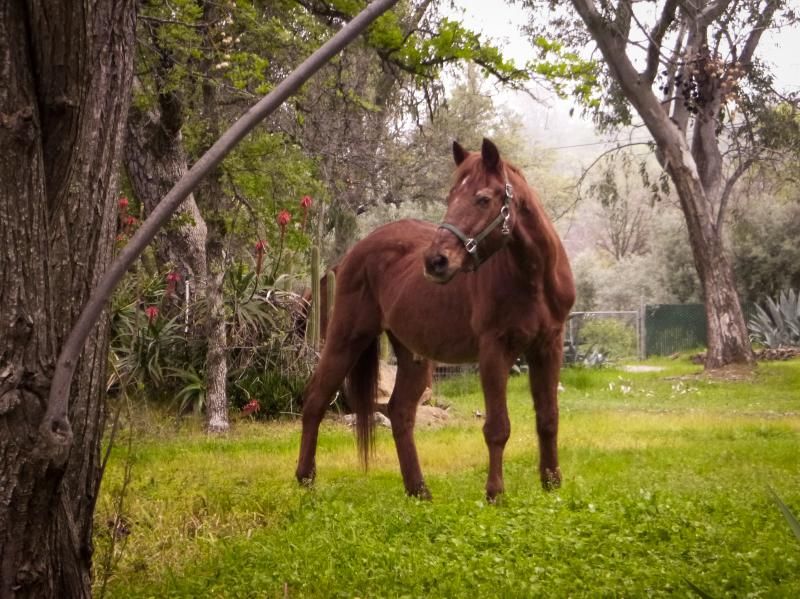 Update 3/4:
Really no update. The vet didn't make it out. He was doing surgery before our appointment and it ran way over time. By the time he was done he didn't feel comfortable sedating so close to dark. So we are rescheduled for 3/20 and I will be sure to update then. Thank you all so much for your very kind words.
Update 3/20:
Vet came out today and we have a vague diagnosis of bastard strangles or pigeon fever. Both present with very similar symptoms. In any case he is not too worried and said as long as Rio is eating (he is) and behaving normally there isn't much we can do except let him ride it out. His body is doing what it is supposed to to kick out the infection but it will probably be a while before he is completely through with it. He has one lymph node that is supposed to be about the size of a quarter that has enlarged to be larger than my fist. The vet that is a good thing and what should be happening. My friend's horse that I referenced up above almost died from pigeon fever last summer so I will be watching Rio like a hawk but I am reasonably happy with the outcome from today's exam.
Thank you everyone for all your very kind comments and positive thoughts and prayers!

Update 4/9 in last post. And a cute pony pic.