Post by admin on Jul 9, 2017 15:43:38 GMT
**** UPDATE 09.09.17 ****
Ok folks, this has been going on long enough, time to start getting to grips with it

After looking at different options, I have signed up for Fotki for the board images, which are
here
. It's a 30 day free trial at the moment, and I'm happy to cover the subs for a year at a time after that. It is however cheaper to pay for 5 years in one go, and thanks to several of you contributing towards the cost to make that happen
if anyone wants to contribute so I can do that, PM me
.
I have replaced signature images with new links where I could (old pea badges, mainly) for the following members: (ETA if your name is in this long list you don't need to do anything else, I'm just letting you know why your pics are working again)
peano
mama2three
(sig)
5peanutsnana
anniebygaslight
(except your 'Cavalier Approach' one, seems to be working right now but doubt it will last!)
Lexica
njinkerbelle
paigepea
Rainbow
TankTop
gale w
FurryP
linda~lou
momx1
scrappinmom3
red88
kluski
happymom
slicksister
buddysmom
Mary_K
leftturnonly
(saved and uploaded your avatar direct so it doesn't need a link

kittens
SweetieBsMom
callmenutz
The following people have broken Photobucket images in their signature and/or avatar that I couldn't fix. Please delete or replace these with new images by 23rd September (that gives you two weeks) - any I spot after that date I will delete myself! Same applies to anyone else that I haven't spotted yet / listed here.
jenjie
mama2three
(avatar)
@elaynef
TankTop
slicksister
SweetieBsMom
Phew! (and I haven't even started fixing the smilies yet...)
**** ORIGINAL POST BELOW ****
Many of you will already be aware that Photobucket have recently changed their TOS: they now do not allow
any
images they host to be displayed directly on other websites unless you have their top level subscription at a hefty $400 a year. (Details on their
blog here
.) This change has had a major impact on forums etc right across the internet, with this image appearing in place of the intended item: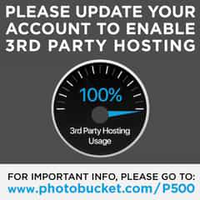 Impact on 2PeasRefugees
Most of our custom smilies and anniversary badges are hosted on Photobucket. Fortunately they are allowing those users who already had a paid account (which includes 2Peas) to continue 3rd party hosting until the end of 2018, so we aren't too badly affected here yet, but I intend to move everything off Photobucket and cancel the subscription before the next renewal payment in November of this year.
This may mean that smilies in older posts will be 'broken' once I move them to a new location. Any old Photobucket hosted photos posted in threads (whether by me or any other members) are also highly likely to suffer the same fate. Any critical images that need to be retained should be brought to my attention and I will endeavour to find a solution.
Implications for you as individual board users
Any signatures, avatars or personal smilies which are hosted on external sites will need to be reviewed and any that are hosted on Photobucket moved elsewhere for you to continue using them. Some people are already getting the replacement image, but it seems as though Photobucket are blocking in waves so even if your images currently appear ok, they
will
disappear eventually unless you're prepared to upgrade.
I would recommend doing this as soon as possible, as there have been some reports of users being locked out of their Photobucket accounts. You should also make sure that you have a local copy of any images that you want to retain permanent access to.
I noticed that many people have the old 2Peas anniversary badges which are hosted on Photobucket in their signatures, and that is one of the accounts already caught. I have re-hosted them
here
and you may use these new links
temporarily
to update your signature until you find a new host: they are still on Photobucket (albeit a paid account) so this is only a short-term solution.
Alternative Options
The following sites are currently known to allow 3rd party hosting, although some with caveats. I haven't used any of these except TinyPic and Flickr - none of this counts as a personal recommendation! If you choose to use any other site not listed, I recommend that you carefully read the TOS to ensure that it allows the kind of usage you want.
Free
Limited Free - no signatures or avatars
Imgur - they do allow direct links but not for anything used as part of a website - this will include images used in signatures and avatars. An image posted once in a thread should be ok but use at your own risk (they tightened up on this last year)
Flickr - like Imgur they allow direct links - only with a link back to their site - and do not allow hosting for signatures, avatars etc


Paid
(but considerably cheaper than PB!)
You can also continue to add photos as attachments to posts without hosting elsewhere. We do have limited space so I may eventually need to delete some images added this way - if/when it comes to that I'll let you all know, and of course start with the oldest.